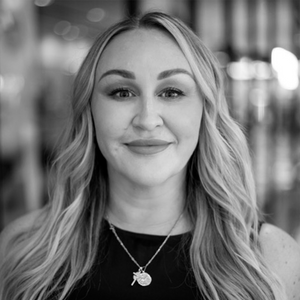 Jayne - Salon Partner
Jayne began her career in hairdressing 29 years ago. After working for prestigious salons in both Australia and London, she returned to Brisbane where she started her journey with Oscar Oscar 12 years ago. Now partnering the Carindale and Manly location, Jayne specialises in mentorship in all areas of the business. Her hairdressing skillset involves precision cutting/styling, Yuko straightening, all types of extensions, and is a Redken certified hair colourist. Colour is Jayne's passion, and no job is ever too big. She loves to share her expertise with her team, and you will often find her brainstorming with them to achieve the best transformations for every guest. Training is very important to her, and she believes that keeping up with current trends is the secret to success.
What drives me?…  Guiding my Team and ensuring they achieve their goals. Their success is my success.
Jayne will be stepping back on the floor 2 days a week in Manly – Thursdays and Fridays. Be sure to catch her then. Limited spots available.
Hayley - Salon Partner
Hayley is one of our Partners at OO Carindale and Manly. Her dedication to the team is one of the highest standards. She demonstrates daily to others how to be the best version of themselves they can be. Her optimism shines through, and her devotion to her craft is a genuine inspiration to others. Having been in the industry for 15 years, Hayley's passion lies in long hair and those beautiful "has she/hasn't she" colours. She loves contouring hair to create bespoke colours for all her guests. Hayley's balayage and lived in colour technique is flawless and if you're looking for a specialist in this field, she is your girl. She has travelled as far as the states to ensure her technique is the best in the business and you will find her doing countless courses to make sure she is always at the top of her game! Hayley is a Redken Certified Colourist, Redken Certified Balayage Specialist, Master Kérastase Ambassador, Hair Extension specialist and Bhave keratin specialist. Look no further for your perfect Stylist! 
What drives me? … The ability to create every day. No two heads are the same, so delivering a personal touch every day truly excites me. 
Brooke - Salon Partner
Brooke began her career with Oscar Oscar 5 years ago. From the moment she started with us we knew Brooke was meant for big things! With a strong background in hairdressing, Brooke knew that management and daily operations of the salon was her true calling. She listens to all the guests needs and wants and introduces them to their perfectly paired stylist. Brooke prides herself on giving every guest that personal yet professional service – ensuring everyone leaves with a smile on their face! Now partnering in Carindale and Manly, and she manages her time between the two. The teams in both locations feel at ease with Brooke leading their days and love how organised she is.  We couldn't run both our locations without her wonderful expertise! I f you need someone to manage all your upcoming appointments without any hassle, Brooke is your girl! 
When I'm not in the salon you will find me? … In the kitchen, scented candles lit with a glass of red. Calm and relaxed, just how I like it.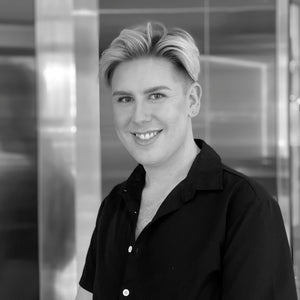 Cory - Master Stylist
Cory has been OO bred through and through and has been with us for 8 wonderful years. He is passionate about building relationships with everyone in the salon! Every guest that walks through our doors knows Cory. He is our manager at Carindale as well as our resident trainer at Carindale and our Manly salon. He loves bouncing off the creativity of the Salon team and welcomes a brainstorm to help others with difficult decision making. His cutting technique is precision meets textural and his blow-dries are set to wow you when you leave his chair. From all types of extensions, beautiful layering, short textured style cuts, lived in colours and vivid colours, Cory specialises in every area you could imagine possible. He is passionate about continuing to educate himself and others to have as much knowledge as possible. You won't ever go to another stylist once you sit in his chair! Everybody loves Cory! 
What are your top 3 favourite things? … Dogs, Dancing, and Dad Jokes! 
Narissa - Senior Stylist
Narissa started her career in hairdressing with Oscar Oscar 3 1/2 years ago. Through hard work and dedication, Narissa has excelled in her training and become a strong, passionate stylist. She is fantastic at educating her guests and completed her Kerastase ambassador course. She excels in colour from lived-in looks to fashion colours and loves short hair and curls. If you are a curly-haired guest rest assured Narissa's hands will help you achieve the perfect style. Narissa loves to pamper guests and provides the most wonderful massages to relax you whilst you are in her hands. Her infectious personality will make you feel at ease in her chair whilst she creates your new look. She also specialises in Keratin smoothing services and loves a silky-smooth frizz free finish. Making people feel confident when they leave is what drives Narissa every day. 
Who would you most like to have dinner with? … Drew Barrymore and Dwayne Johnson because they have the best laughs!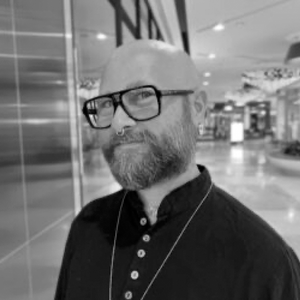 Pluto - Master Stylist
Pluto has cultivated a signature style informed by a unique brand of skill and experience gained throughout their many years working with hair and makeup. Pluto has worked in the some of the greatest Sydney, Melbourne and Byron Bay Salons and is our little piece of Newtown, Fitzroy, and Byron right here in Carindale. Pluto seamlessly moves from club culture, catwalk, and the kooky end of editorial glamour to create real world," i woke up like this" or" i spent hours on this" looks that stand out in a crowd. Pluto is a creative and courageous stylist who isn't afraid to break the rules. Pluto loves to work with the natural texture of hair, combining classical precision cutting and colouring with freehand techniques to arrive at the perfect result for their guests. Make sure to book in with Pluto ahead of time, as their column fills fast!  
What's at the top of your playlist right now? I love cover versions! Even if they are bad, I just love to hear the way other people interpret someone's work, the less like the original the better. I'm totally obsessed with Post Malones 90's grunge covers right now and Miley Cyrus. 
Rachael - Premier Stylist
Beginning her apprenticeship with OO 8 years ago and becoming the recognised stylist she is today, Rachael's dedication to her training shines through all her work. She has completed her Masters in Kerastase and can assist you in finding the right prescription for any hair or scalp concerns. Rachael is an absolute superstar colourist and stylist that has learned from the best of the best at our Carindale salon. Rachael loves all things hair and is passionate about making her guests feel beautiful. She welcomes any challenge that is thrown at her. She excels in difficult colour changes, so if you are looking for a brand-new look, no matter the difficulty, Rachael will exceed your expectation guaranteed. Her cutting skills are seamless, and she nails a killer bob. She loves smoothing unmanageable hair with our bhave services and specialises in weft extensions and tapes to give you glamorous, thick hair. Book now to experience Rachael's expertise. 
What drives you in salon? … Being able to deliver a service that makes people feel more confident and pampered- to make people's hair dreams a reality.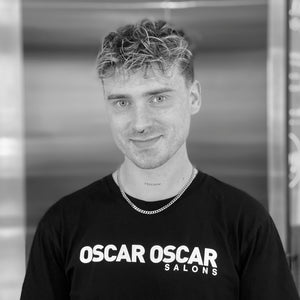 Chris - Master Stylist
Chris is also OO born and bred! With 16 years of hairdressing behind him, he has been a stylist in Sydney Fashion Week 5 times and won a Silver Medal for World Skills 2017. Lived in blondes, platinum blondes, sparkly brunettes, brondes, precision cutting, effortless styling and sexy hair is what Chris loves most! He specialises in extensions and is certified in tape and weft applications. His precision cutting skills leave guests wowed, and his short haircuts are his signature favourite. He also nails a good bhave smoothing treatment for the most difficult of hair. Chris is a calm soul and his energy in the salon is always one of Zen. He delivers a service where you can relax knowing that he is a master of his craft. Watching Chris work, you can clearly see the detail he puts into his transformations. Every foil and cut has a purpose and his vision 100% always comes to life. His guest base stems far and wide, even reaching overseas. Chris recently attended Hair Aid in the Philippines where he taught the disadvantaged how to cut hair. He is a selfless human with a huge heart! We love Chris! 
What's at the top of your playlist right now? Rufus Du Sol, The Weekend and Calvin Harris.  
Hannah - Premier Stylist
Hannah began her journey at Carindale as a salon coordinator, but with a background in make-up and event styling, she quickly fell in love with hair and made the switch to hairdressing. What a serendipitous change because Hannah works hair wonders. Hannah is an absolute natural with hair! Do not let her 4 years in the game deter you from booking with her. Hannah completed her apprenticeship in 1 ½ years with us and is up there with the best of our team! She sailed through her training and still attends anything and everything she can to assist in making your hair goals reality. Hannah is a perfectionist so if you're looking for a gorgeous lived-in blonde, balayage, super blonde, vivid colours, a flattering long textured cut, a French bob or some jaw-dropping styling, Hannah is your girl. Hannah specialises in great lengths hair extensions, wefts, and tapes to achieve the long, luscious locks of your dreams! She also knows how to tame unruly hair with our bhave service. She has completed her Kerastase ambassadors and is extremely knowledgeable in haircare. Hannah is an all-round absolute superstar. 
When I'm not in the salon you'll find me… playing games! 
Isy - Premier Stylist
Isy has worked at OO for 3 years out of her 5 in hairdressing, completing her apprenticeship with OO. Lived in blondes, balayage, super blondes, vivid fashion colours and beachy waves are her absolute favourite things to do. She can also nail the perfect bob if you are looking for a change, or simply cannot find the stylist that you've been in search of! Isy is all about current trends in the industry and passionate about education and growth. Isy is our "it" girl and has an air of cool.  She attends any course she can to upskill herself, and the rapid rate she has grown with us shows in her beautiful work. She up styles with grace and is the perfect stylist for your next event. Isy specialises in tape and weft extension application for anyone wanting thickness and added length. Her bhave smoothing is always on point and she tames unruly hair with precision. Isy's service to her guests is impeccable. She looks after her guests and loves to get to know them on a personal level. Don't miss out on meeting our salon sweetheart who loves to make people smile and laugh. 
 If you could have dinner with anyone (dead or alive) who would it be? … Harry Styles. When Isy isn't in the Salon, you can find her with her friends, her dog or shopping!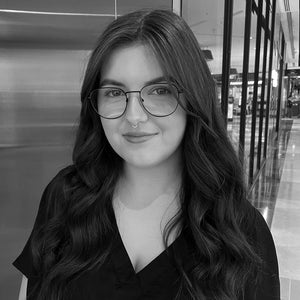 Trinity - Premier Stylist
Trinity has grown up with a passion for all things hair. Joining the industry 5 years ago. She has found her calling working as a hairdresser. You'll find her doing money pieces, balayage, lived-in colours, and bright buttery blondes. Trinity is our resident blonde specialist. If you like a full head of foils for maximum impact, or a scalp bleach with perfect tone she is the stylist to see. Transformations excite her and she thrives on challenges. Her beautiful cutting skills are set to wow you and she loves a full bouncy set of curls. Curly guests look no further! Trinity prides herself on all the knowledge and education that she has with a love for working in fast-paced salons. Oscar Oscar Salons Carindale is the space for her to thrive and create the best hair for her guests. Come and see Trinity for a complimentary consultation and let her help you on achieving the hair you've always dreamed of but could never quite achieve. 
What drives me? … Giving my guests the best hair possible & getting their confidence back.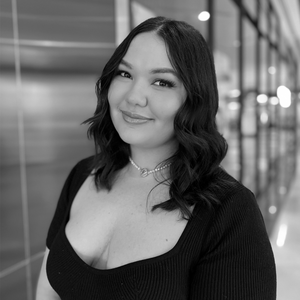 Vivienne - Emerging Stylist
Vivienne began her hairdressing journey 3 1/2 years ago after taking a leap of faith and channelling her creative flair into hair. Vivienne is a natural when it comes to hair and big colour changes, lived in blondes, blondes and glamorous styling are her favourite things to do. She loves a great conversation and getting to know her guest's personality and vision is her strong point in finding out what suits them best. Vivienne loves to attend fashion week and recently participated in Mercedes Benz fashion week in Sydney, being the only apprentice accepted on the team. Vivienne far exceeds her 3 years in the biz and her knowledge is one of many years exceeding her time. She is a born natural and her work shines through surprising us all. Her flawless finishes are to die for so book in quick as this superstar is rising fast!  
What's Vivienne's favourite pass time? … Sharing a glass of wine with friends and going on spontaneous road trips!  
Rachel - Salon Coordinator
Meet Rachel, our Salon Coordinator whose passion lies in creating connections with our guests. She finds true joy in seeing our guests leave with beautiful hair, a result of her commitment to exceeding expectations when pairing you with the right stylist. Rachel's dedication to exceptional customer service drives her daily in the salon, making every visit a delightful experience. Rachael brings an air of warmth and professionalism every day without fail. The team adore her and couldn't function without the love and support she exudes. Guests recognise her and she builds relationships with every guest to ensure they feel looked after from front of house to their chair, and throughout their service. 
If you could sit down to dinner with anyone, who would it be and why? … Kris Jenner, as i think it would be hilarious!  
About the SALON
Oscar Oscar Salons has celebrated 30 years of creating award-winning and glamorous hair under the direction of celebrity hairdresser Oscar Cullinan, twice-awarded Australian Hairdresser of the Year.
Our Westfield Carindale salon is a must-visit fashion hot-spot in Brisbane. This black-label centre is home to one of our best Brisbane hairdressing teams. Glamorous colours, lived in buttery blondes, brondes, fashion colours and transformative colours, glossy bouncy blow-dries and effortless style is what this team is all about.
While in the salon you will be hosted by Salon Partners Jayne Pausina, Brooke Levitt and Hayley Warner and their long-standing team of expert stylists, who will ensure your experience is nothing short of amazing.